PARTNER WORK
FUJITSU
In our long-term partnership with Fujitsu, we provide a joint service for several retail & hospitality groups. We deliver IMACS, managed services and other Fujitsu offerings to outlets nationwide. Our experience, skill & dynamic team synergises with Fujitsu's considerable service offering to provide a unique one-stop solution.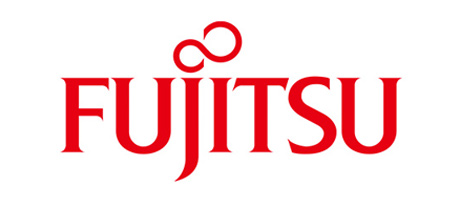 STRATEGIC BIDDING PARTNER FOR THE HOSPITALITY SECTOR
The success of our relationship with Fujitsu is undoubtedly due to the vast knowledge and experience of the retail & hospitality sectors that we provide. The dynamic nature of our services means we can deliver Fujitsu's projects swiftly and seamlessly, embracing and adapting to the ever-changing industry demands.
ONE-STOP SOLUTION
We offer complete, multi-stage technical implementations of Fujitsu software and hardware. Aside from the essential tasks of project management, cabling & engineering, our involvement in Fujitsu projects commences with initial scoping all the way through to mobilisation - including post-installation training and live support.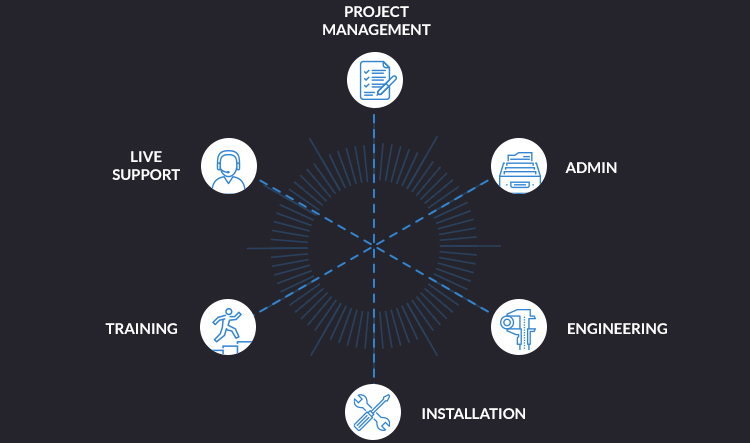 APPLICATION DESIGN FOR NEW BUILDS
.01

INFRASTRUCTURE PLANNING

In the first stages of a new Fujitsu implementation, our project managers and consultants work alongside architects and designers to create a practical, bespoke solution. We offer key insight into power & data cabling layout, optimal equipment location and how best to integrate the solution into the customer's business.
.02

HOTSTAGE TEAMS

To complement our onsite offering, we also provide a specialist hotstaging team to build, configure and test equipment prior to installation. Working from an offsite facility, the team can ensure that every solution is ready to "plug and play" once delivered to the customer premises. Additionally, this service allows for solution development and customer acceptance testing to be completed in a safe, controlled, and non-business-critical environment.
.03

ERGONOMICS

We know that delving deep into the business operation and structure is key to meeting the specific needs of every customer & outlet. Our team consults with management, front of house & kitchen teams to ensure that any new solution complies with their operational demands.
Partnering with Fujitsu, Agora successfully completed a nationwide rollout of Cisco Meraki equipment into the largest managed pub & restaurant estate in the UK. The project was extremely high profile and comprised of many well-known high-street brands such as Miller and Carter, Browns, Harvester, All Bar One, O'Neill's and Toby Carvery.
The scope of the project was a full refresh of on-site network hardware - requiring the replacement of all modems, routers, switches, and access points with Meraki counterparts. Additionally, whole-site Ekahau Wi-Fi surveys were completed in all outlets to validate the swap-overs met customer specifications.
One of the key deliverables was to ensure that all works were completed prior to daily opening of the businesses and with no subsequent impact to trading - this was achieved in every outlet.
The rollout consisted of 1,750 outlets, the intensity of which peaked at 24 outlets per day, with each outlet requiring 2 engineers on-site. Inclusive of project management, warehouse, support, and cabling staff, we maintained a dedicated project team of 110 people. Consistently challenged with client-requested date changes and vendor stock availability, Agora's dynamic and flexible approach ensured continued project output on-time and within budget, ultimately resulting in successful deployment in each and every outlet.
Partnering with Fujitsu, Agora provided a dedicated project team to work within Whitbread's branded outlets (Premier Inn, Beefeater, Brewers Fayre & Table Table), successfully delivering the biggest telephony transformation project in Europe at the time.
The scope of the project included a full network upgrade requiring the replacement of routers and switches, as well as building and implementing a new VoIP solution. Following initial site surveys, Agora's project team completed all the on-site cabling, removal of legacy systems and the installation and testing of the new solution. Additionally, Agora provided the on-site training and go-live support necessary to ensure the migration was as smooth as possible for the customer's business.
Working around the specific challenges experienced in hotel environments, we completed all tasks within the check-out and check-in windows. Through this meticulous planning, the project was successfully delivered with zero impact to the customer outlets.
Partnering with Fujitsu, Agora successfully delivered an IP Telephony rollout into a large UK pub & restaurant estate.
Initially scoping the solution through joint consultation, we provided the dedicated Project Management and Project Coordination support to plan, manage, and deliver the rollout. After taking delivery of the hardware into our warehouse, our specialised Hotstaging team configured and tested all equipment prior to arranging direct-to-site logistics ensuring readiness for installation.
A dedicated and fully in-house trained engineering team completed two migrations each per day, around the customer business requirements, installing the new telephony equipment and removing the legacy solution. The PMO team consistently ensured that the project was delivered to plan and budget whilst also maintaining the stringent communications as dictated by the customer.
Consisting of over 700 outlets and ramping up to a peak of 18 installs per day, the rollout was successfully completed within the tight 3-month customer timescale.
Partnering with Fujitsu, Agora was asked to provide a team to complete a project to standardise the network communications layout in a nationwide estate of well-known retail stores. The project posed some unique obstacles and challenges which required an extremely dynamic team.
Due to the nature of the work and its inherent impact on business-critical systems, the project required all works to be completed in a very tight window between store closure and overnight warehousing commencing. The customer additionally requested a high level of reporting and real-time liaison with their data centre teams. We determined that these requirements necessitated a dedicated out-of-hours project coordination team.
Agora adopted a two-man team approach for the onsite activity, this allowed us to complete all works within the short time window and ensured an efficient split workload of the numerous tasks required in each outlet. Working closely with the Fujitsu Project Managers, we created a realistic and dynamic run-rate which not only met the customer's deadlines but also worked around some key change-freezes and busy periods.
The project was met with exceptional feedback from the customer, in which they praised the minimal impact to operations, engineer competence, speed of project completion and budgetary adherence. Our project coordination team received special praise from Fujitsu for their professional, dynamic, and extremely dedicated approach to the project.
"A seamless service was provided by Agora and we could not find fault with any aspect of the project" - Fujitsu Project Manager