DEPLOYMENT
From project management through to the final handover
Whether it's an IT upgrade, a system migration or a brand new installation, our services cover the entire scope of your project. With versatile teams of talented specialists located the length and breadth of the country, we bring a comprehensive skill set to every operation, wherever you are.
IT'S WHAT YOU DON'T SEE THAT MAKES US EXCEPTIONAL
To allow your business to function as normal during the installation process, we keep most of our cabling work behind the scenes. Our teams will carry out deployment at a time that is least likely to interfere with your business. You might not see much of us, but that means we'll cause no interruptions to your trade and no impact on your customers' experience.
AN AGILE APPROACH TO THE UNFORESEEN
We are experienced enough to know that sometimes even the best laid plans have to change. Our people and solutions are able to adapt to changing conditions with little or no disruption, meaning unforeseen issues don't become larger, more costly problems that might cause delays to your business.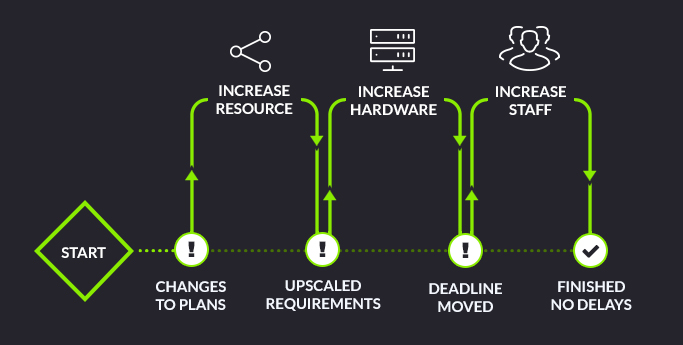 PROJECT MANAGEMENT GOVERNANCE
We know that communication is an important part of the process, so we strive to keep our customers in the loop at all times. From hotstage and testing through to final solution handover, your assigned project manager will be there to look after each stage of the deployment and answer any queries or concerns you might have at any point during the installation.
.01

HOTSTAGE

Before installing the hardware on-site, we'll lay out each item of equipment planned for installation in our very own hotstage environment. This will allow us to build, prepare and test the system in advance to ensure installation and testing on site go according to plan.
.02

INSTALLATION

When the system is ready, the warehousing and logistics team will safely transport it from the hotstage facility to the installation site. From there the electricians, cabling team and engineers will take over and carry the project through to its full completion.
.03

SIGN-OFF

Once the system has been set up and installed on site, our engineers will undertake a thorough testing process to check that it is operationally ready. Our tests go beyond simply turning machines on; we will put the new installation through rigorous user and scenario testing to future-proof it against possible faults and errors.